Children Teaching Adults - A Community Building Event
2005
A ten day papermaking and book arts intensive for children and adults. In a structured learning situation a group of children learned basic papermaking skills and creative approaches which applied handmade paper. They then taught some of their skills in a condensed form to a group of adults. The ten days were documented as a short movie aired on the local community TV channel. The goal of this project was the building of community through the engagement of creativity. Creativity is intricately linked to sharing and sharing can be translated into teaching.
Part I:
Papermaking is simple enough to learn quickly and to transport into creative activity. It is feasible for a child to look at a number of finished and very unique objects at the end of a single day in the studio. At the end of a week a whole body of work can be made which then can become a springboard for further work.
The Learning Process
- Making paper by hand: pulling sheets, embedding objects into sheets, casting with wet sheets, pressing, sorting wet sheets to dry. Making paper pulp from recycled paper and local natural materials was introduced so children so they could continue making paper from accessible resources after the event.
- On a daily level papermaking will be interspersed with the making of specific book structures. Bindings such as the accordion, the piano hinge and the maze book were particularly appropriate to handmade paper. Drawing and writing onto finished sheets further demonstrated specific applications of handmade paper. Rubber stamping and photo transfer techniques were especially useful for our context.
Part II:
From individual to inter-personal empowerment: children and adults can experience a new communal integration with each other. While creatively engaged, new relationships are formed which can then continue to be productive beyond the actual event. Papermaking was the empowering link in our case.
The Teaching Process
- Each child is assigned an adult member of a student group from the Bloomington community or their parent. The adult then instructed by the child the entire process of making paper by hand: pulling sheets, embedding into sheets, casting with wet sheets, pressing, sorting wet sheets to dry
- The teaching children are responsible for set up, clean-up and for planning of the teaching process (under slight guidance)
Part III: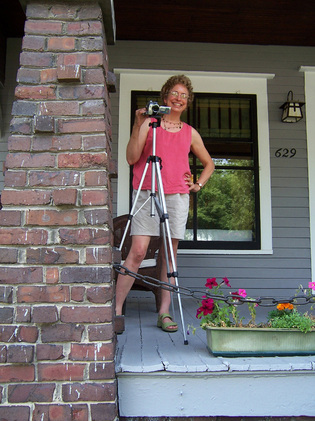 Filming
"People, Pulp and Paper :
Building Relationships through Hand Papermaking"
Filmed and edited by:
Laurie Shelton
Aired on the local community channel, CATS TV, Bloomington, IN
in 2006 for six consecutive months
The goal of this film is to make the event visible to a larger public beyond the actual time of its occurrence. In addition it is to provide a working model for others to use in other contexts within the Bloomington community and elsewhere.
---